Secretariat Golden Anniversary – 50 Years of Greatness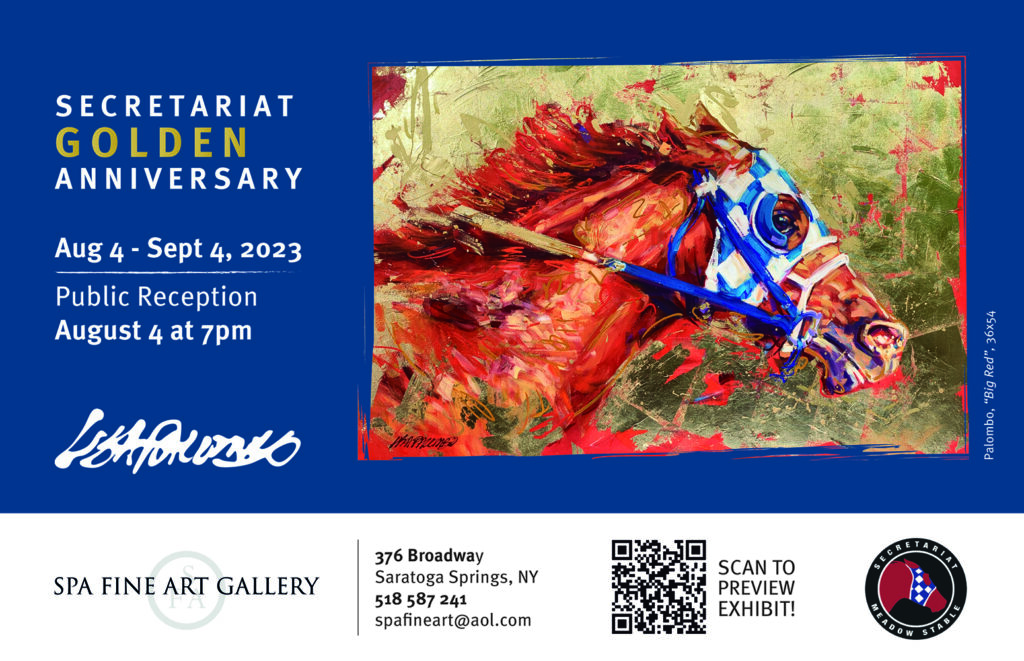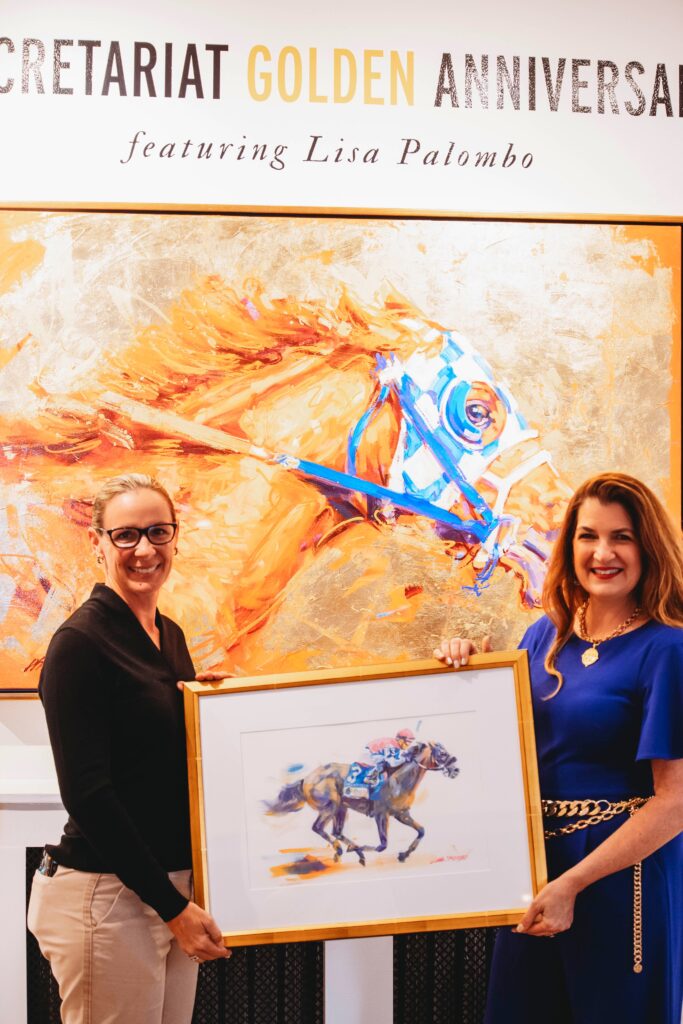 Thank you to all who came out for our Golden anniversary celebration of fine art and racing history, including special appearances by Jena Antonucci, American thoroughbred horse trainer known as the first woman to train a winner of an American Triple Crown race, having conditioned Arcangelo to victory in the 2023 Belmont Stakes. Not to mention, Hall-of-Fame jockeys Jose Santos and Sandy Hawley and Hall-of-Fame journalist Steve Haskin.
Our deep appreciation to Leonard Lusky, technical advisor for Disney's Studios "Secretariat" movie, and expert on everything Big Red, who helped organize this special exhibition along with gallery manager, Alyson Stryker and her amazing Spa Fine Art team!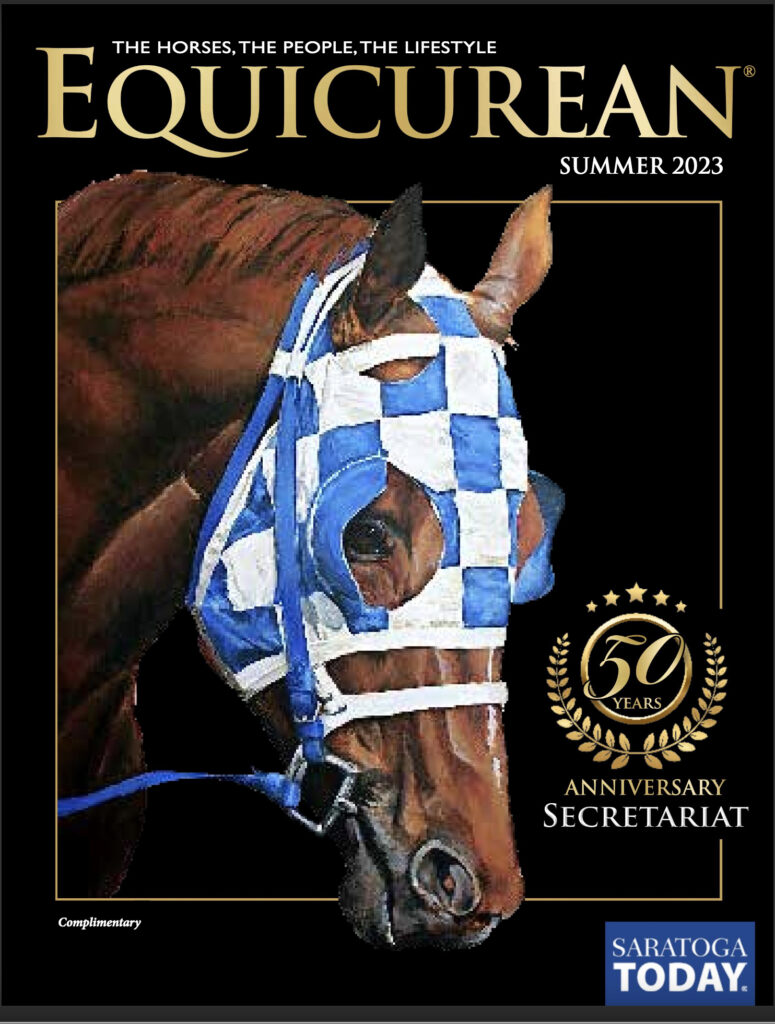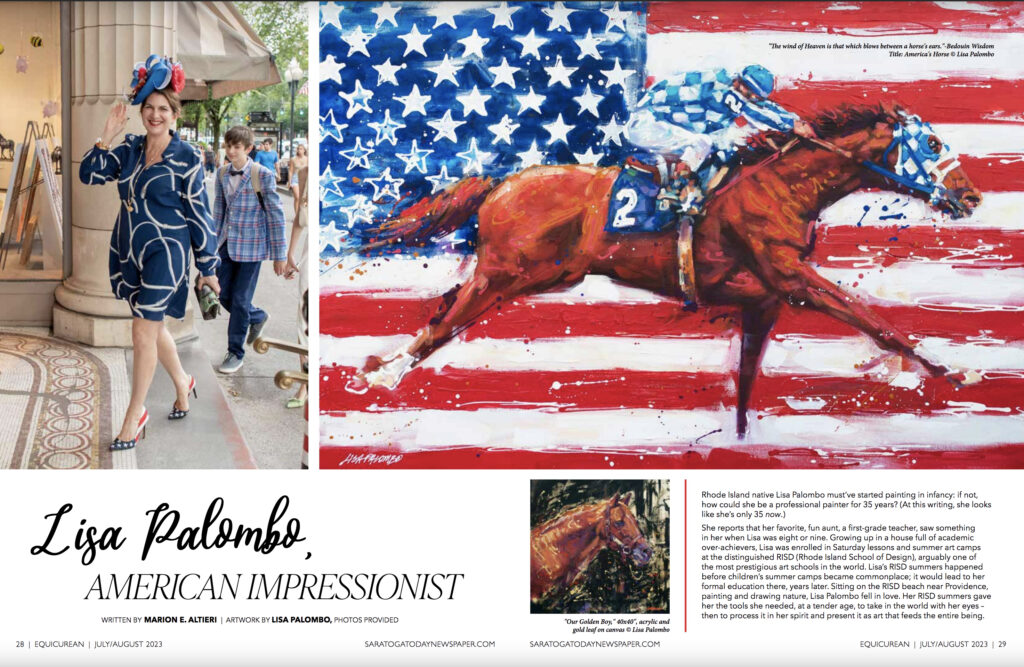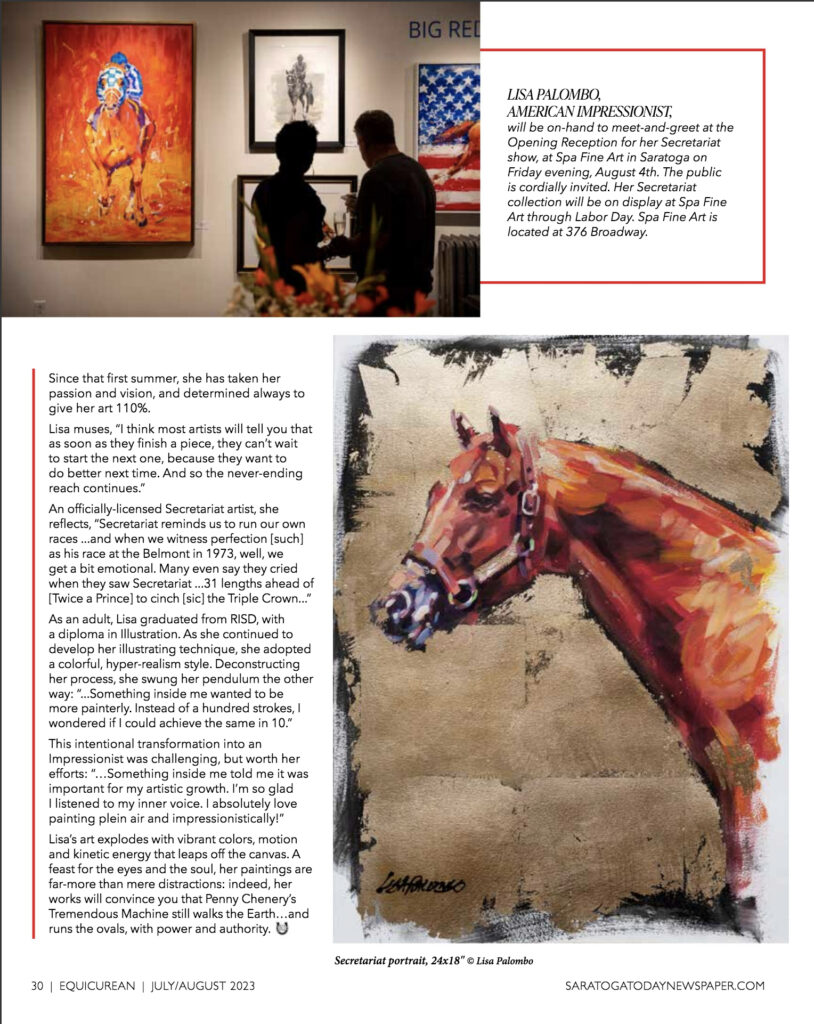 Big Red, White & Blue @ Spa Fine Art Gallery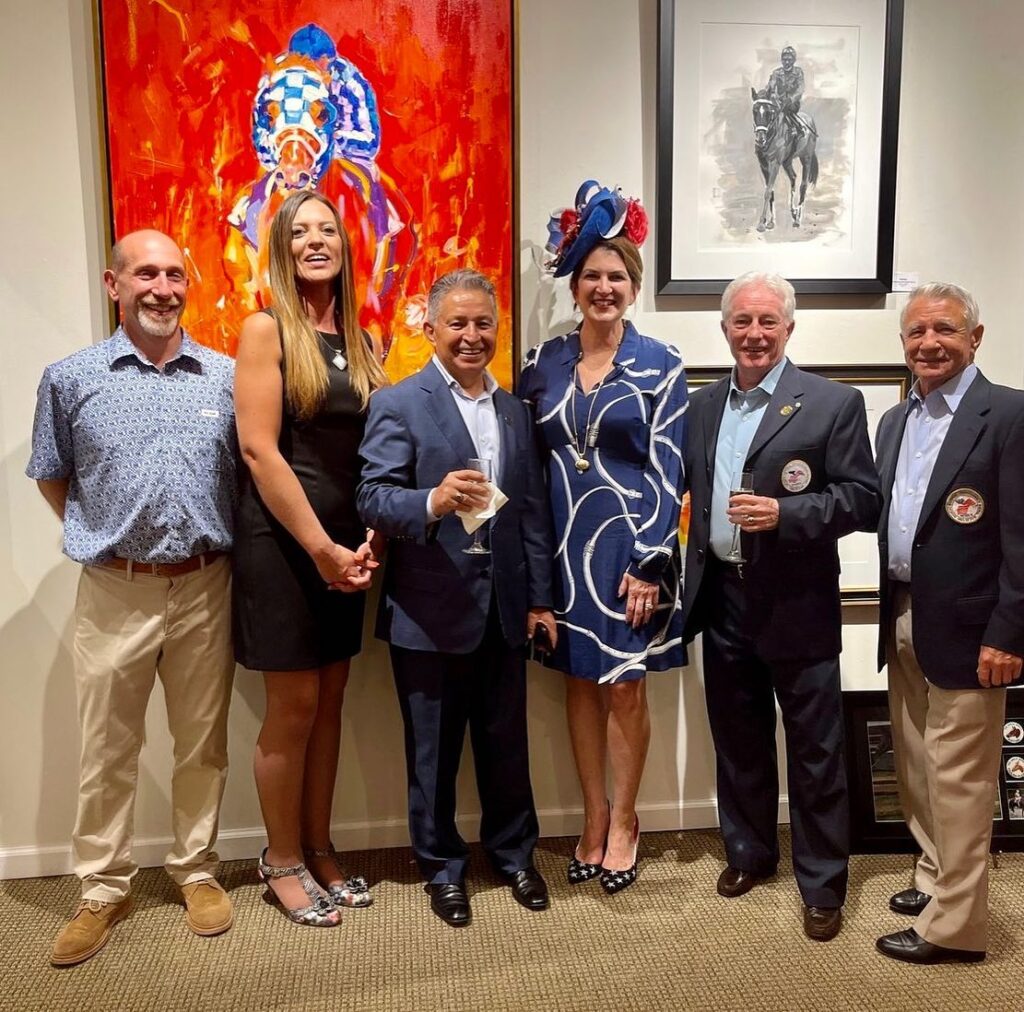 It was an extraordinary evening at Spa Fine Art in downtown Saratoga Springs, NY on August 5th, 2022 as we In celebrated Secretariat's 50 year anniversary racing his juvenile races in Saratoga. Thank you to all who came out for our celebration of fine art and racing history, including special appearances by Hall-of-Fame jockeys Jose Santos, Sandy Hawley, Earlie Fires and Hall-of-Fame journalist Steve Haskin.
This summer co-exhibition show-cased original paintings by me and select and historical pieces including original memorabilia and rare hand-signed photography by Secretariat's owner Penny Chenery, affectionately known as "the First Lady of Racing" as well as Hall of Fame jockey Ron Turcotte.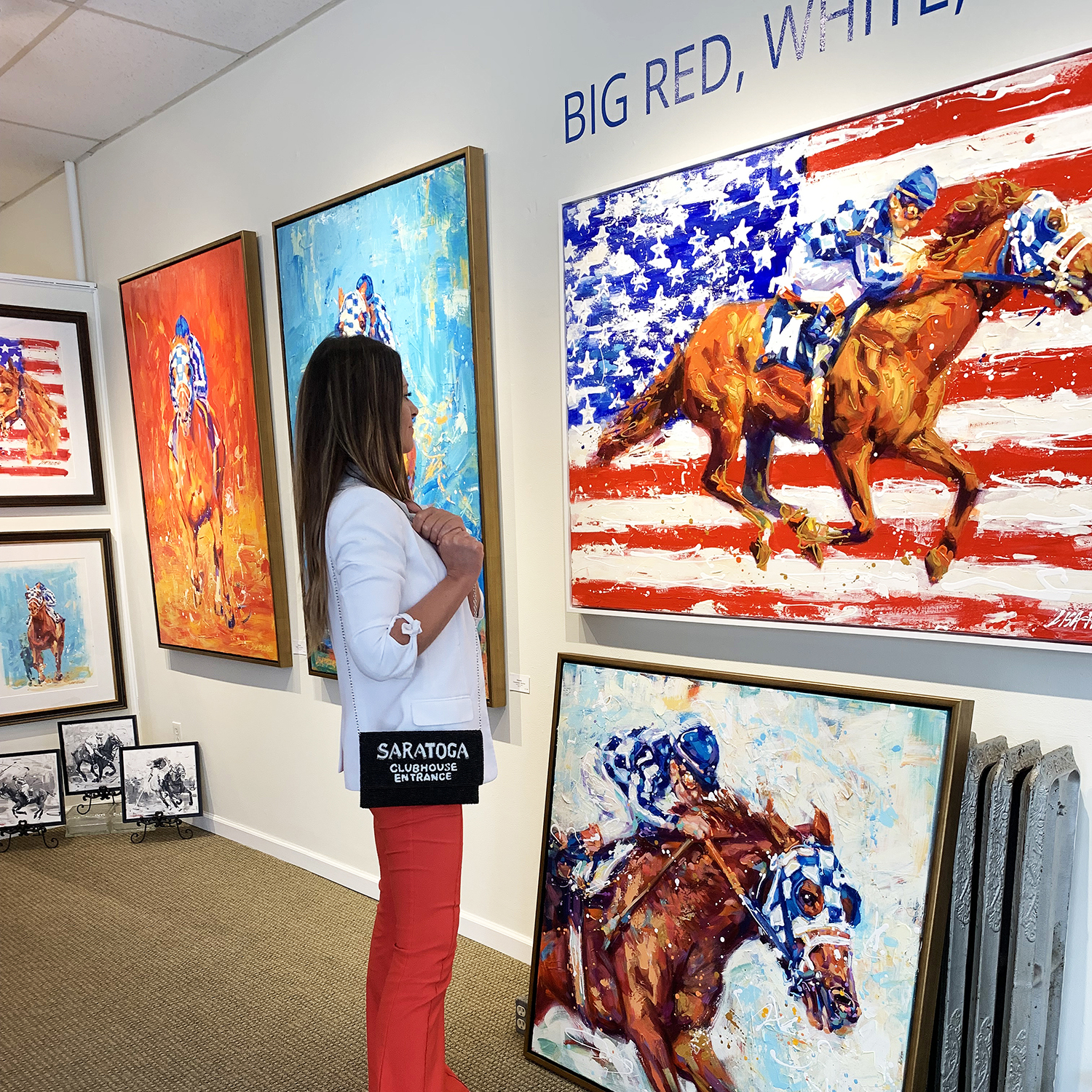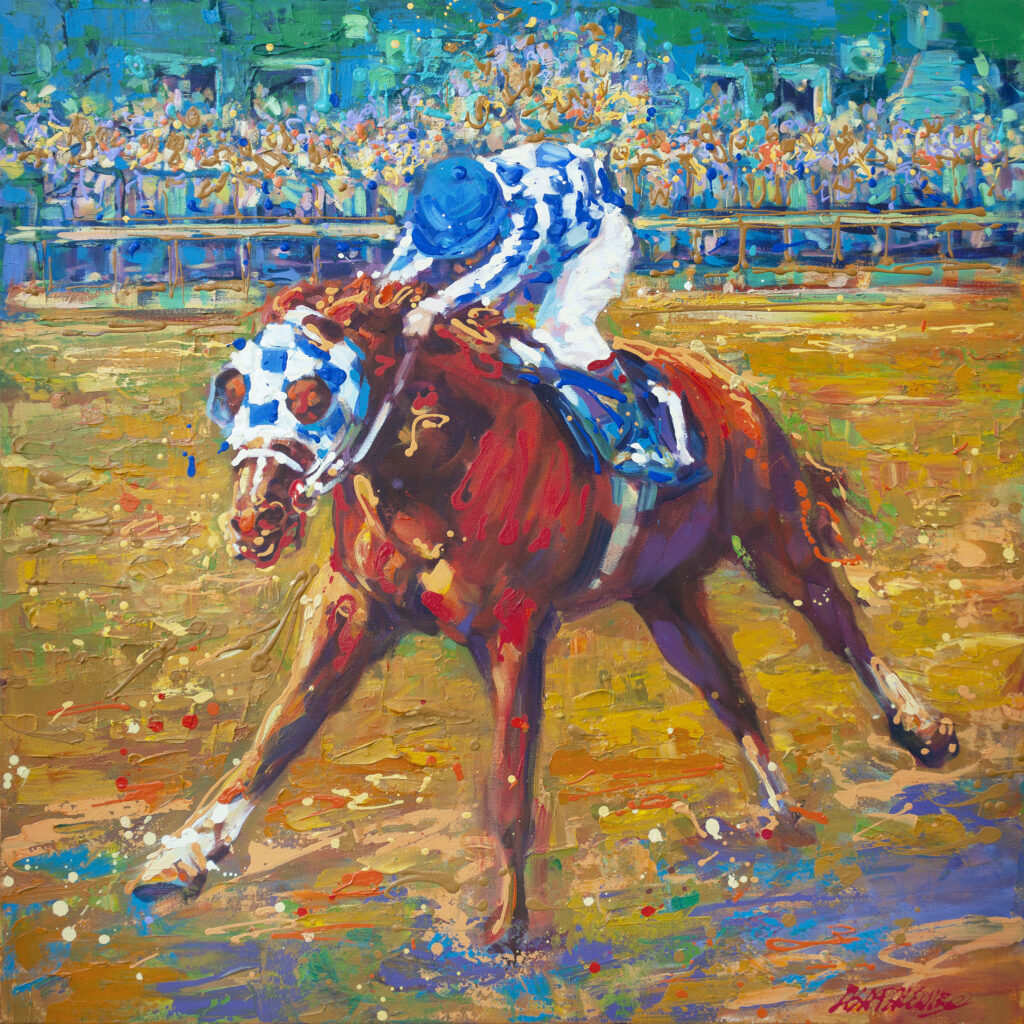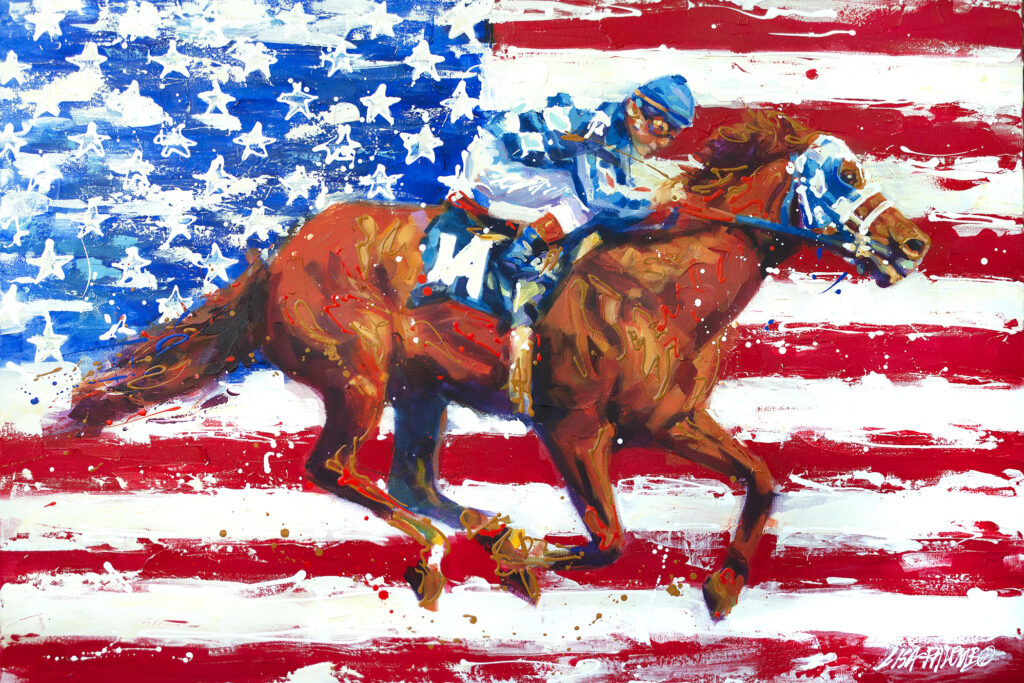 ---
NY Botanical Garden 5th Annual Plein Air Invitational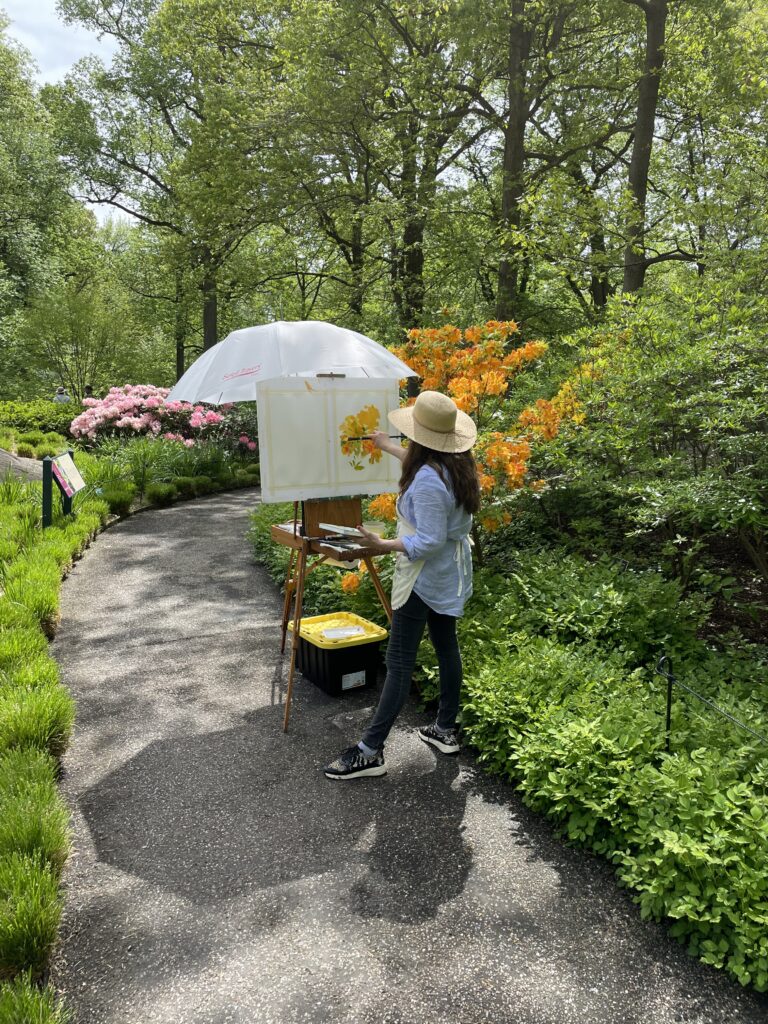 On May 15, 2022 the 5th Annual Plein-Air Invitational hosted by artist James Gurney at the NY Botanical Garden (NYBG) was no less that fabulous! What an honor it was to paint alongside this group of hardworking and talented artists. I was stationed in the enchanting & colorful azalea gardens and was able to finish these two rhododendron paintings "Solidarity" and "Bee Dazzler." (see below) The storm clouds came just as we were heading to the art reception in the Edible Academy where we were able to meet the other painters, chat about art and enjoy wine and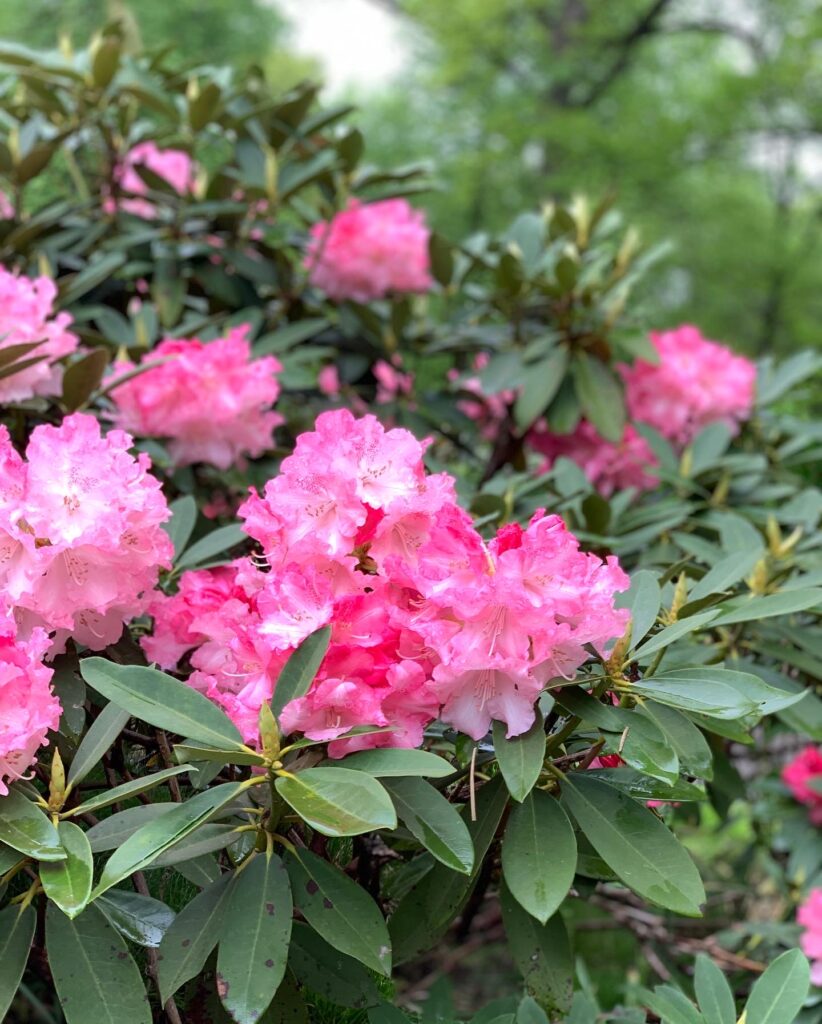 ---
Art in the Wild – Kingdom of Color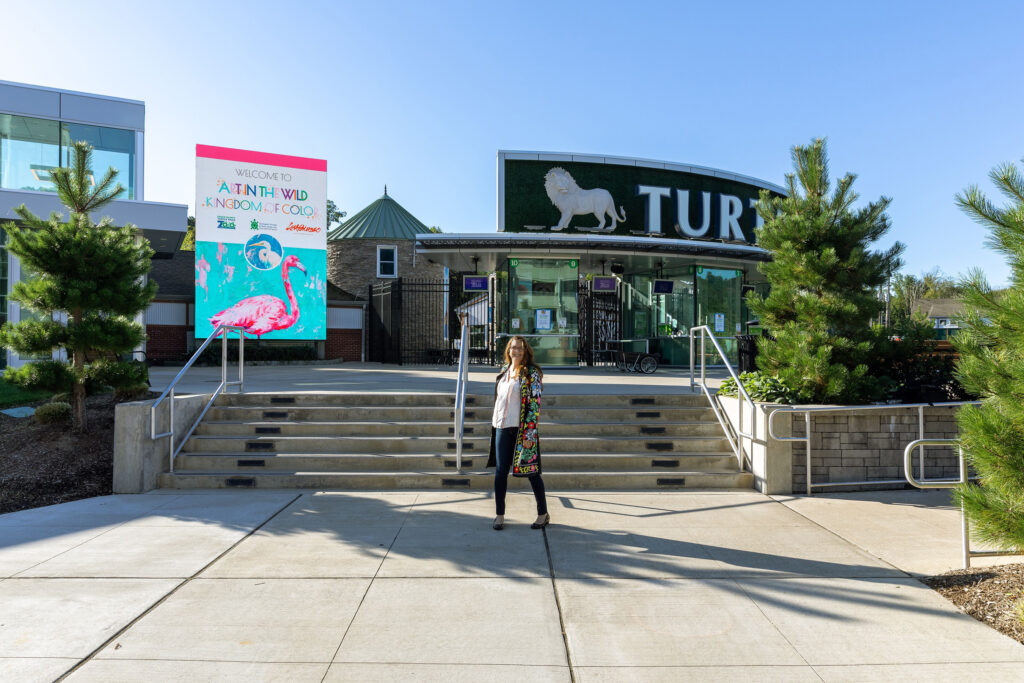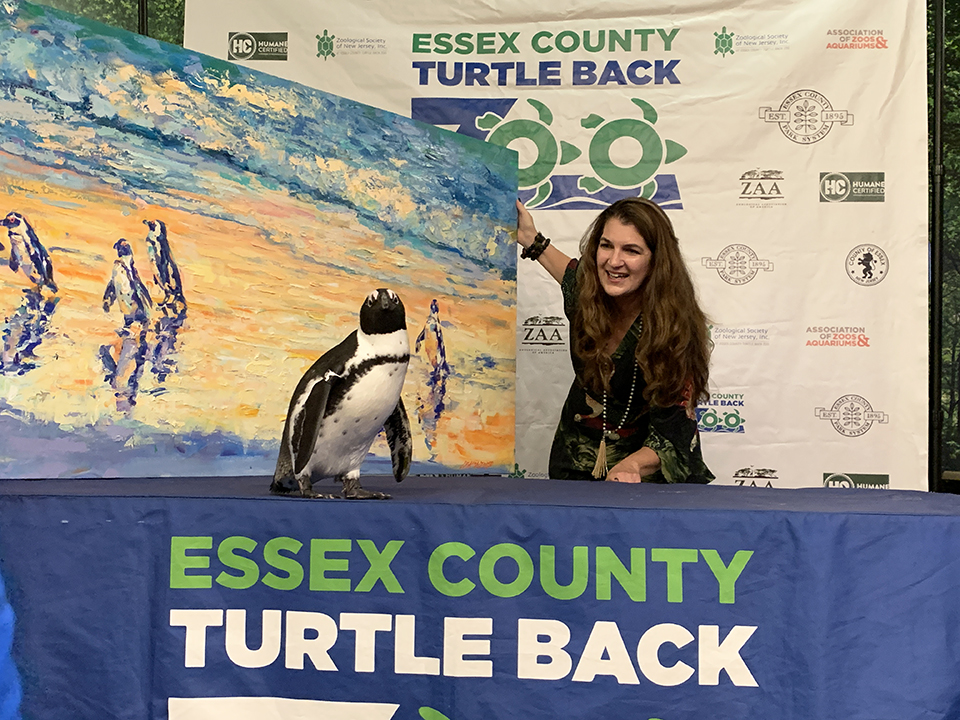 Despite a monsoon-like burst of rain early in the evening, I'm pleased to report my Animalia exhibition at the Turtle Back Zoo was a smashing success!

I have a lot of great folks to thank for pulling off this spectacular evening. A big thank you for all the behind-the-scenes support and to all the attendees who braved the drenching rain!

It was a privilege to partner with Essex County Turtle Back Zoo and the Zoological Society of New Jersey. They are doing amazing things to educate the public on how to make a meaningful difference in the animal kingdom.


Mosi, the zoo's animal ambassador penguin, made her appearance at our event as well. She was born at the zoo and stole our hearts. John Elliot, CBS weatherman extraordinaire, also stopped by to get chased by my large tiger art.

And, congratulations to Andrea Caserta for winning the "Walk This Way" flamingo silent art auction! The preview for the Animalia exhibition can still be viewed here, www.lisapalombo.com/animalia.here.
---
Secretariat's Birthday Celebration Month
Secretariat was born March 30, 1970. He became an American Thoroughbred racehorse who, in 1973, became the first Triple Crown winner in 25 years. His record-breaking victory in Belmont Stakes, which he won by 31 lengths, is widely regarded as one of the greatest races of all time.
I was thrilled and honored to have been chosen as the featured artist to showcase my work that captures the beauty and magnificence of Big Red. Secretariart was far from any ordinary racehorse. In the sporting world, he's often mentioned in the same breath alongside some of the human all-time greats.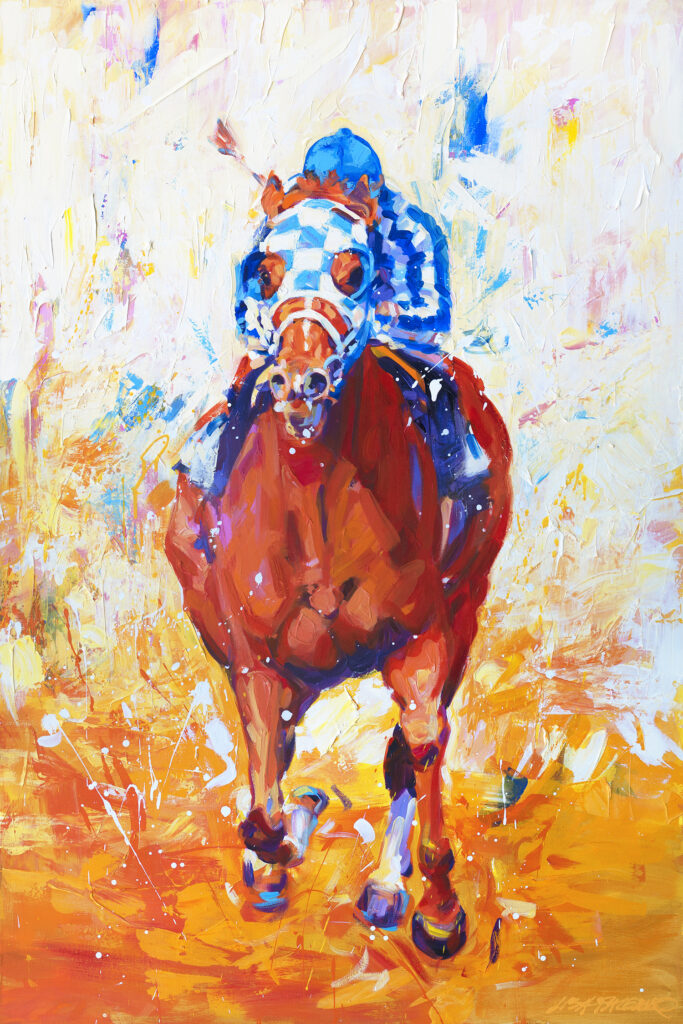 ---
Cheers! Taste of Broadway at MSDA 2019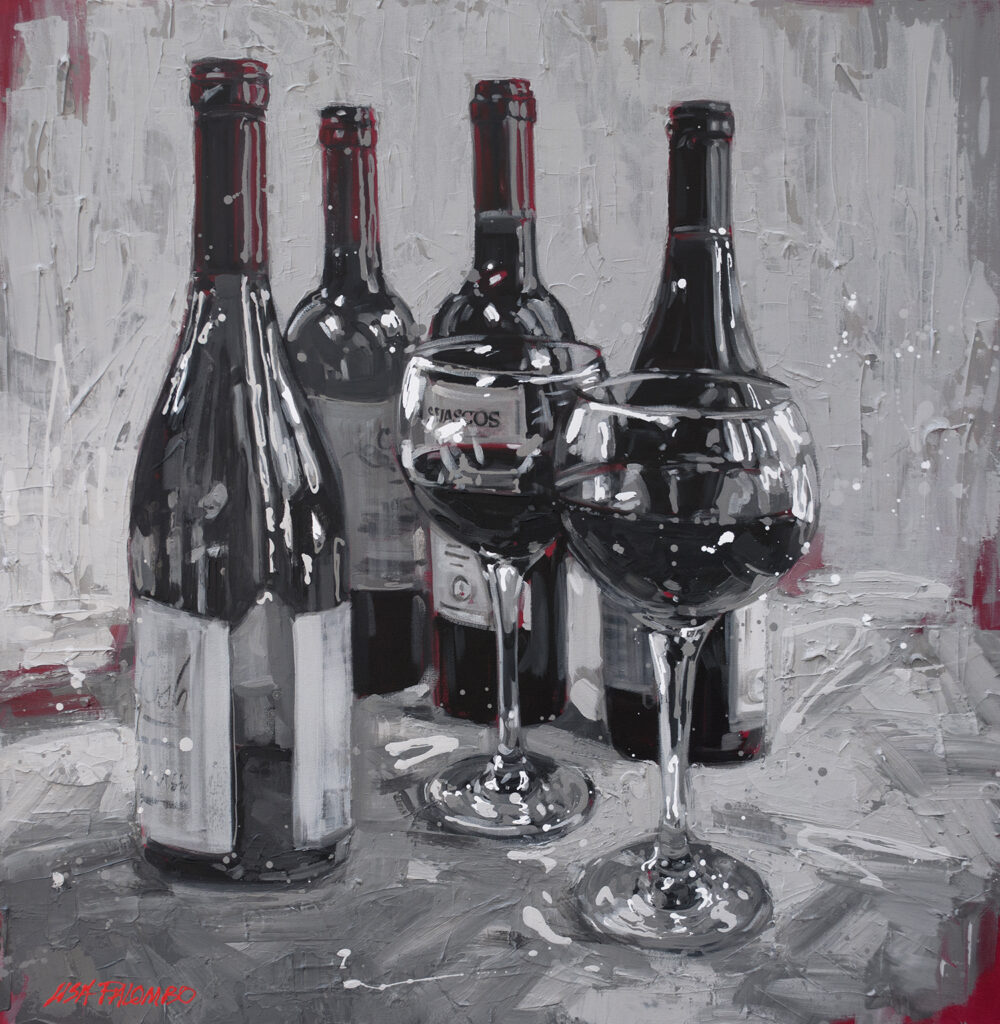 This fall Mount Saint Dominic Academy in Caldwell, NJ hosted The Taste of Broadway celebrating their 10th theater season in the Doris M. Byrne Performing Arts Center. I was so pleased to showcase my new "No Wineing" exhibition and support this wonderful institution, MSDA. Being able to see familiar faces and chat with so many great people made the night even better!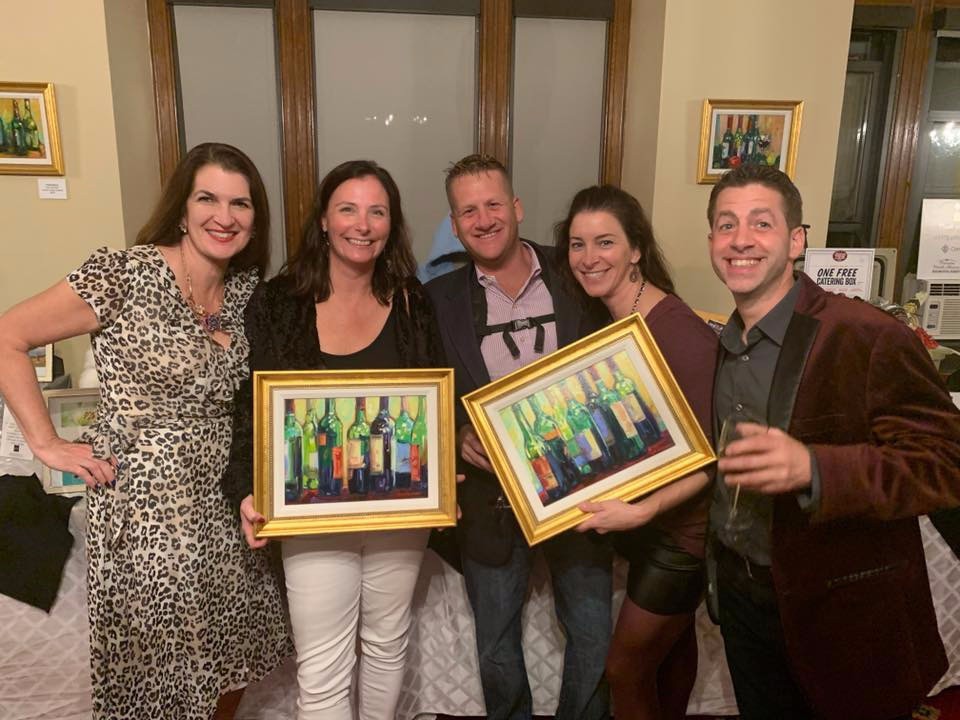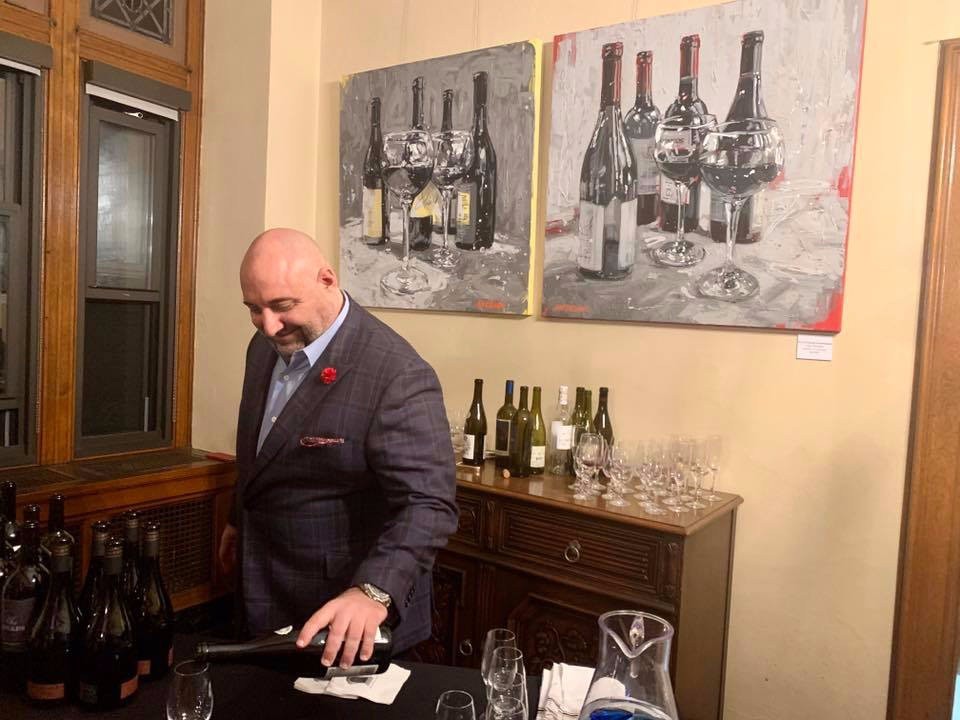 ---
Art, Champagne, & Polo – Saratoga 2019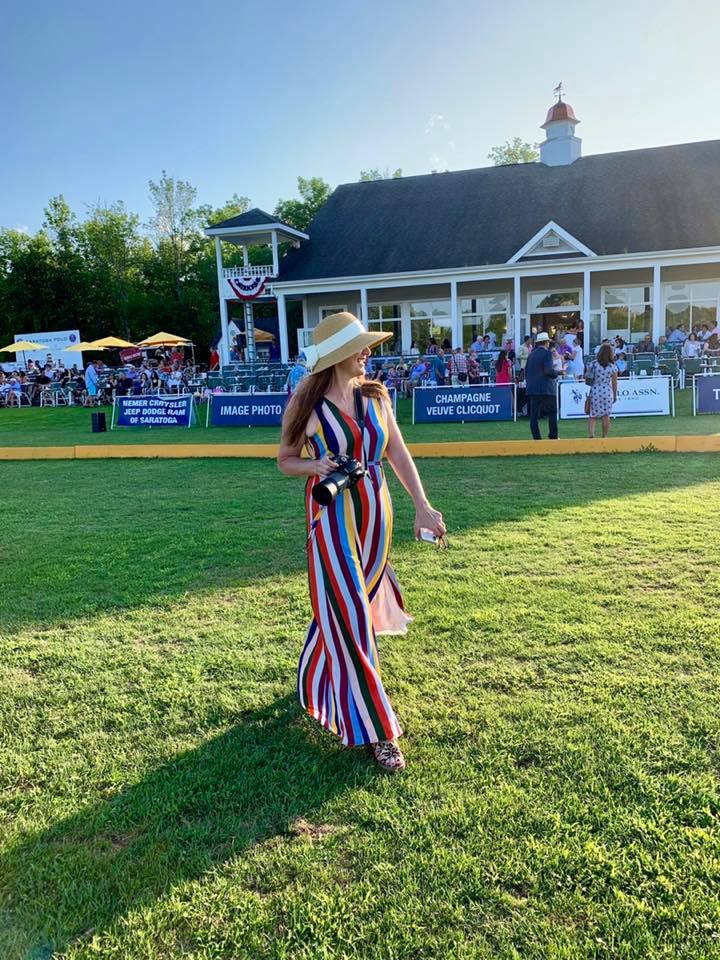 This August we kicked off my 6th annual solo exhibition at Spa Fine Art Gallery with a champagne reception. It was a thrill to chat with collectors and meet new friends like author and philanthropist, Kate Chenery Tweedy daughter of Secretariat's owner-manager Penny Chenery. (see photo below). Thank you to the amazing team at Spa Fine Art Gallery for rolling out the red carpet and hosting a lovely evening.
Our first polo match at the Saratoga Polo Club was not a disappointment either! We caught the Whitney Challenge Cup and witnessed the fastest sport on four feet. More paintings to come of this in the near future for sure!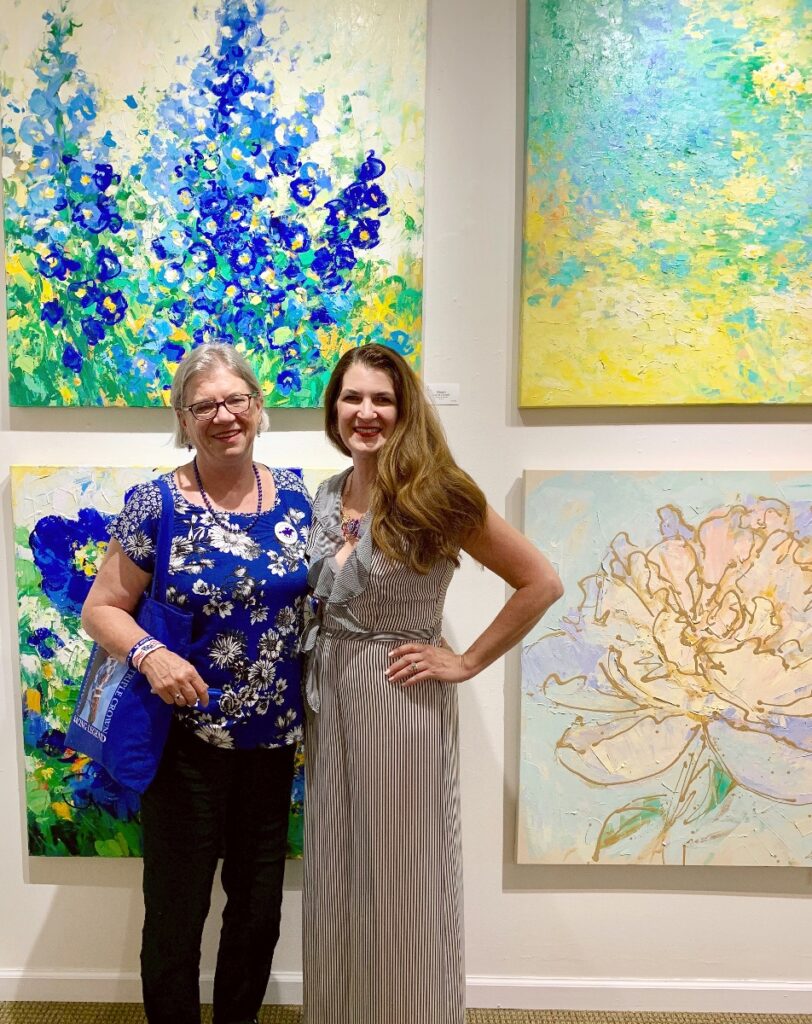 Spa Fine Art Gallery is conveniently located in downtown Saratoga Springs, NY. From natural healing springs and thoroughbred horseracing to elegant bed & breakfasts, fine dining, and entertainment, there is so much that this beautiful historic town has to offer. If you haven't visited this popular resort destination, we highly recommend a visit!
SPA FINE ART GALLERY | 376 Broadway, Saratoga Springs, NY | 518.587.2411 | www.spa-fine-art.com
---
Lisa's Art Pilgrimage to Paris & Giverny 2018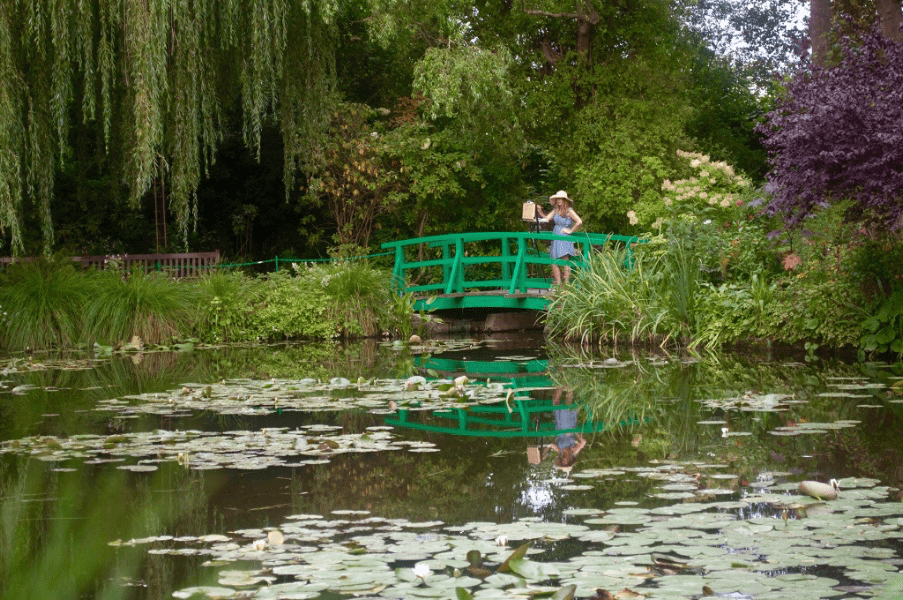 Ode to Monet is a fresh-new French inspired series based on Lisa's recent art quest excursion to Paris & Giverney. Monet's garden in Giverny was a dream come true. The museum allowed Lisa to paint in Monet's garden and celebrated water lily pond after public hours. Stay tuned to see Lisa's new exciting watercolors and acrylics!
---
NYC's Premier Design Show, Design on a Dime 2018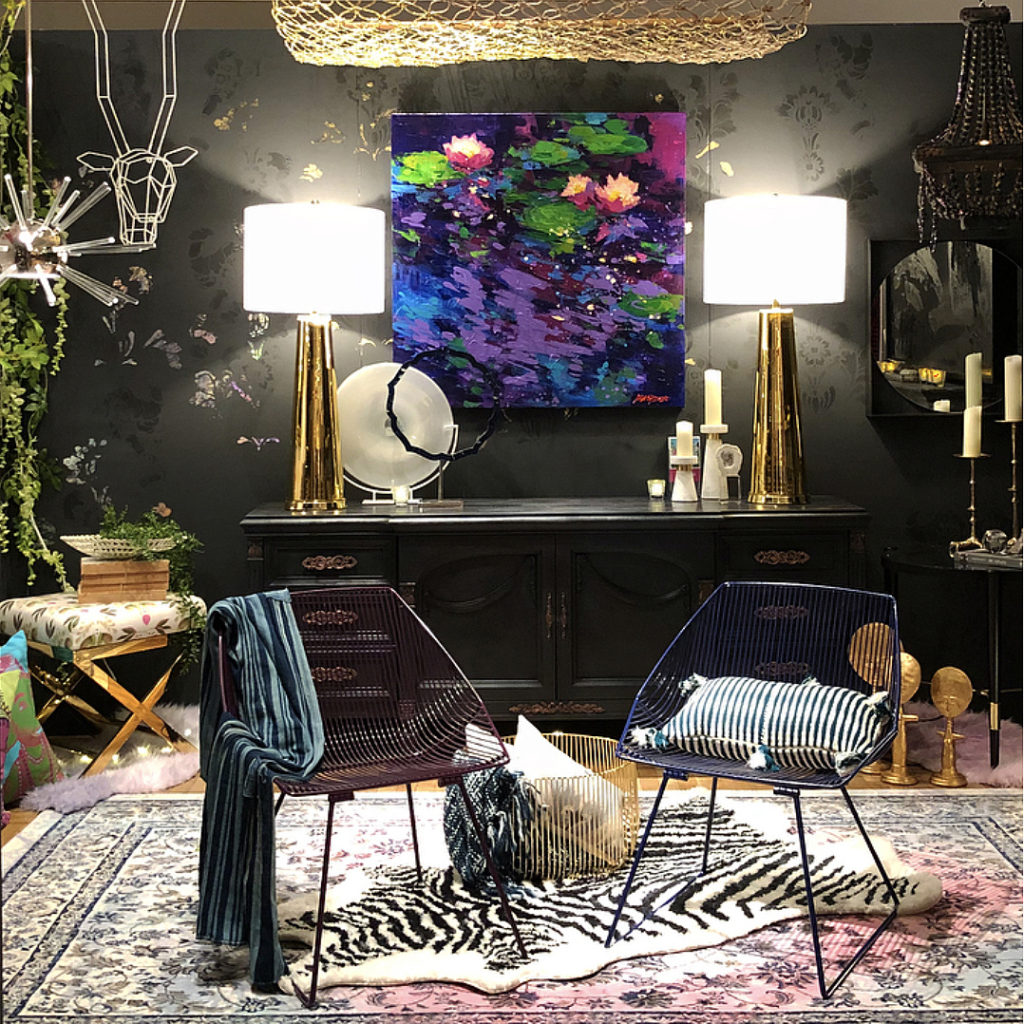 A big thank you to the uber, creative designer Azie Shelhorse of Verdigreen, Montclair, NJ, for having Lisa Palombo Studios part of their room vignette, "Alchemical Romance," at NYC's premier interior design benefit, Design on a Dime. We are so honored to showcase Lisa's latest painting, "Magic," (shown above) 40″ x 40″ x 1.5″, acrylic on canvas, in Azie's breath-taking vignette. It was a magical and dazzling opening night!
Since 2004, Design on a Dime has brought together interior designers who donate their time and expertise to benefit the work and program of Housing Works. Housing Work fights for funding and legislation to end homelessness and AIDS, and we feel fortunate to take part in this worthy cause.
---
Johnson & Johnson HQ Solo Exhibition 2017 – 2018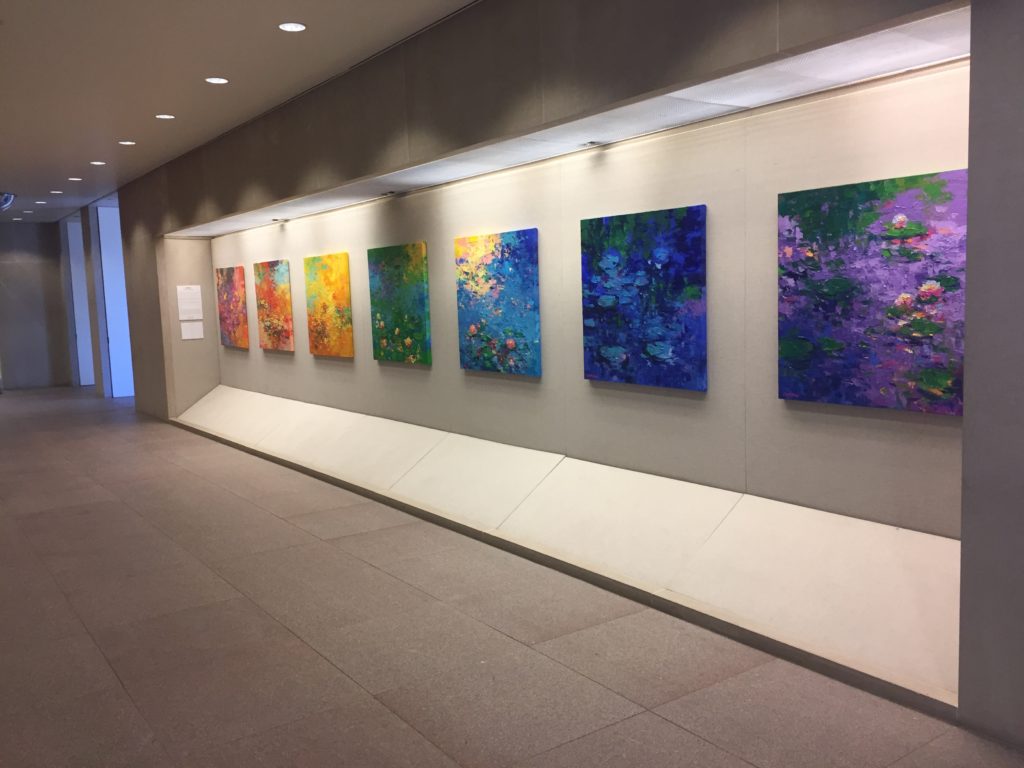 Lisa's solo exhibition, showcasing her latest seven-piece water lily collection, "Rainbow Connection," is on display through February 2018 at the new Corporate Art Gallery at Johnson & Johnson World HQ, New Brunswick, NJ. J&J has been a long–time supporter of the arts, and it is a great honor to be chosen to exhibit at their global headquarters.
Each painting in "Rainbow Connection" is limited to one color palette of ROYGBIV, an acronym for the colors in the rainbow: red, orange, yellow, green, blue, indigo, violet. As a whole, the collection reflects endless hue combinations and Lisa's deep inspiration of the natural world and its beauty.
"Rainbow Connection" is currently available to purchase as a collection in its entirety, and single images within the collection are available to purchase as a mixed-media original. For pricing and details, or to find out more about mixed-media originals, please contact the studio at 973-364-0280 or email [email protected]
---
Presby Memorial Iris Garden Reception and Exhibition 2017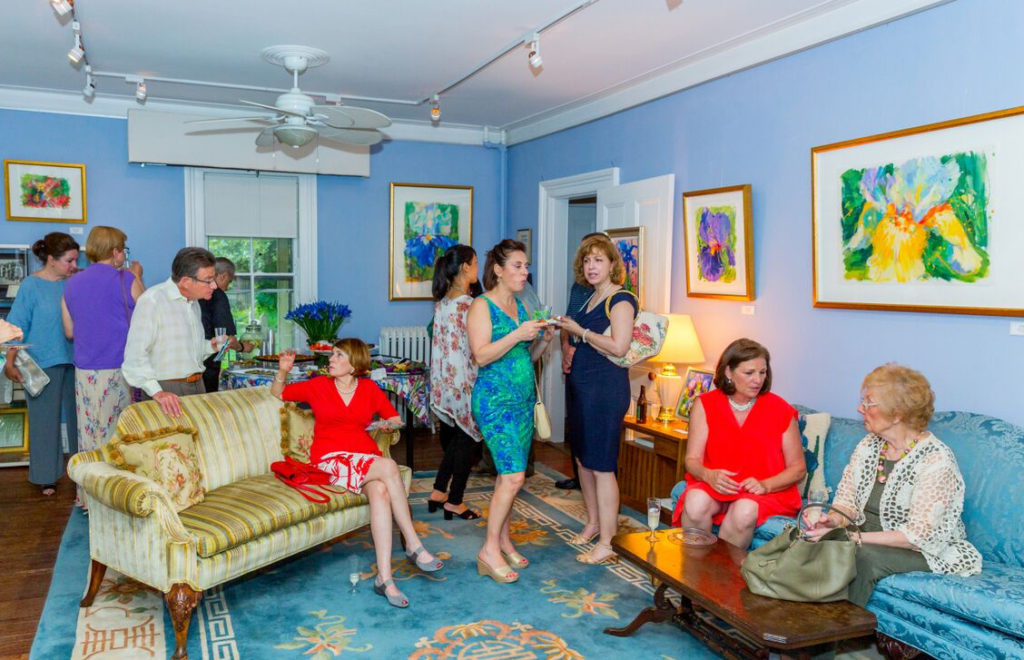 Presby Memorial Iris Gardens hosted a season-long exhibition of Lisa's new works inspired by the gardens in the historic Walther House located on the gardens in Upper Montclair, NJ. It was a grand time during one of the hottest evenings in May with lots of yummy treats catered by Laddey's Lunch Box.
The Essex County Presby Memorial Iris Gardens was established in 1927 to honor Frank H. Presby of Montclair, a leading horticulturist and a founder of the American Iris Society. The gardens offer a spectacular display of thousands of iris varieties to visitors from all over the world and is listed on the State and National Registers of Historic Sites. Lisa's notecards and small prints can be found in the Bloom Room Gift Shop located at the gardens.www.presbyirisgardens.org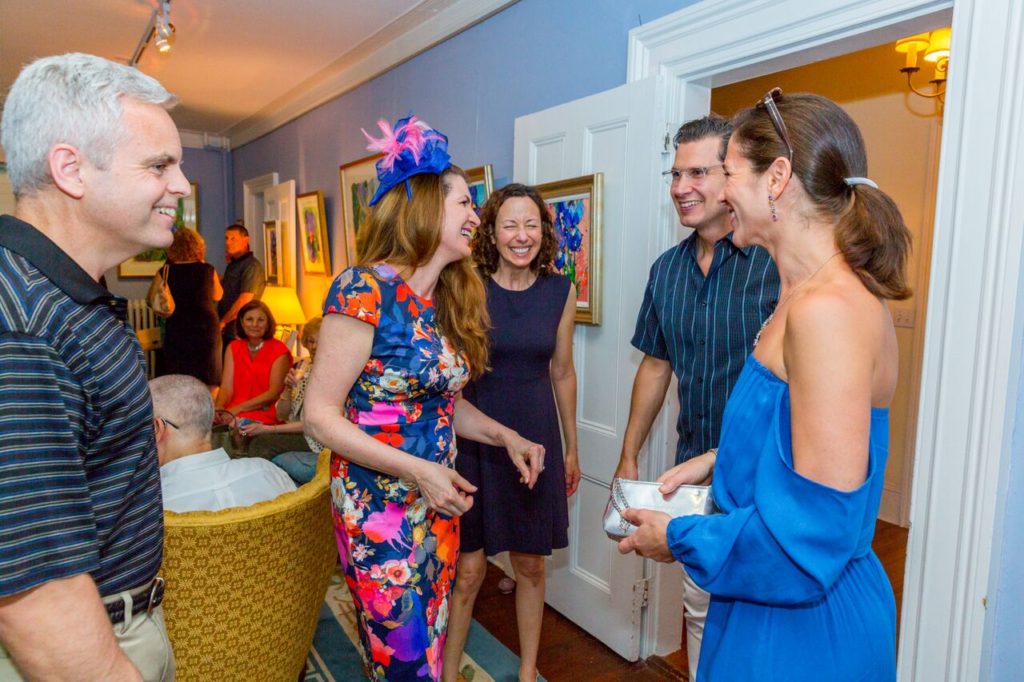 Photo credits: Pushparaj Aitwal.
---
Spring Open Studio 2017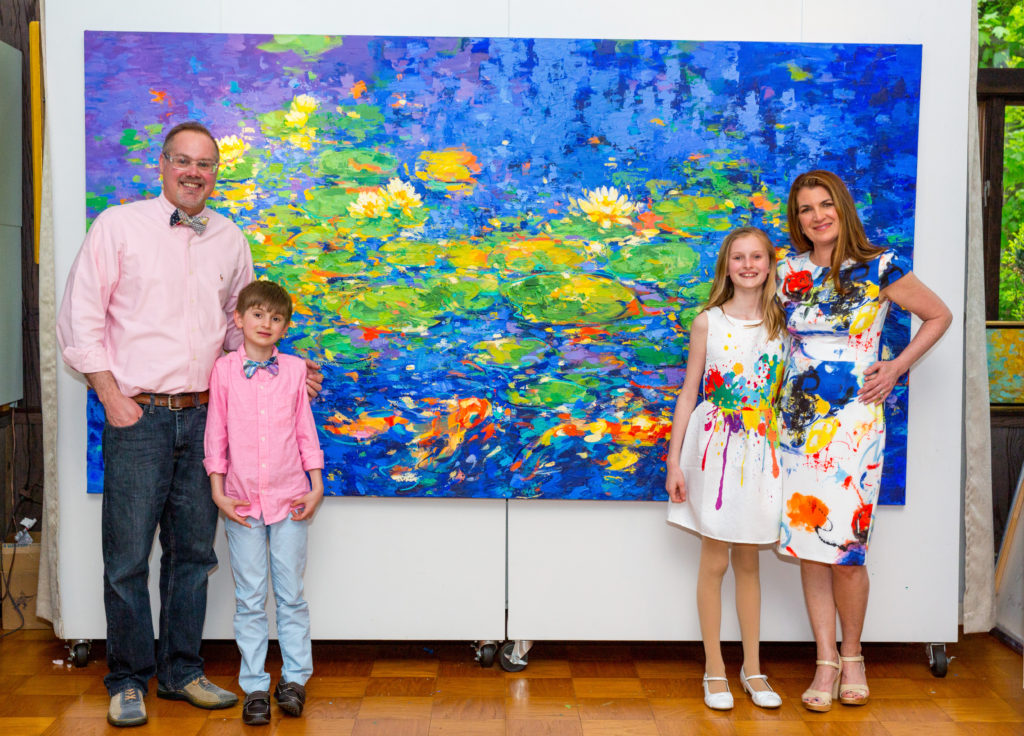 Lisa Palombo Studios hosted its 16th Annual Spring Open studio earlier this month. We hope everyone who came to visit enjoyed the festivities!
Here's a recap of a few things that were going on at this year's show: First, we premiered Lisa's latest documentary, "Living Waters," a short film, directed and produced by cinematographer Christopher Plunkett of Stonestreet Cinema, which documents the creation of Lisa's latest large-scale masterworks, also titled "Living Waters." With the help of her children, Ruby and Nathaniel, the painting was unveiled to the audience after the screening! Click on the image below to watch Lisa paint this latest piece in her "Water Lilies" series and to hear more about her life as an artist.
Picture above: Lisa with her family after the unveiling of "Living Waters," acrylic on canvas, 60″ x 108″. Photo credit: Pushparaj Aitwal.
"Living Waters," a short documentary by Christopher Plunkett of Stonestreet Cinemas.
---
Ladies Tea, Caldwell, NJ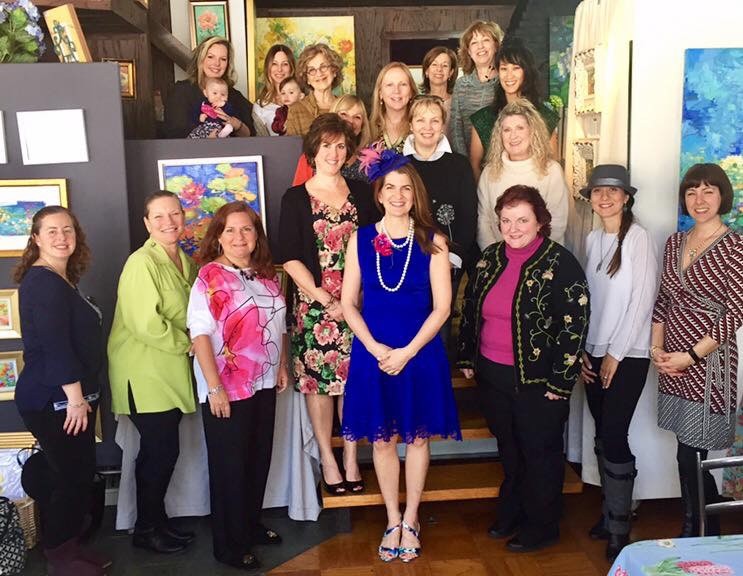 Lisa Palombo Studios hosted its inaugural Ladies Tea this March to celebrate the first day of spring. It was a beautiful sunny morning, and the studio was filled with lovely ladies, great conversation, and plenty of teacups!
Thank you to all who attended and for making it a most memorable day. It was a wonderful way to start our favorite season!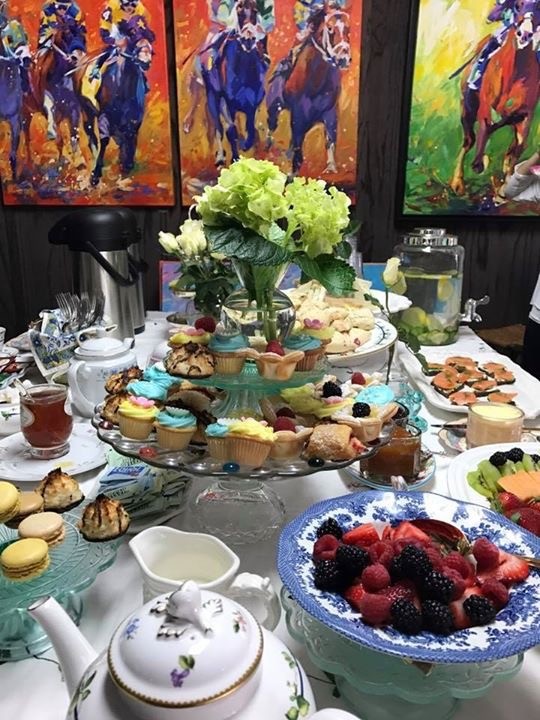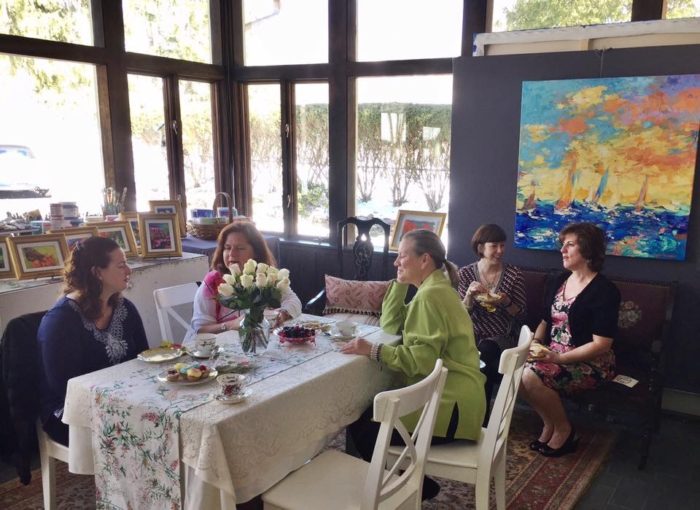 ---
The Liberty & Love Tour Art Collaborative Project, Winter Park, FL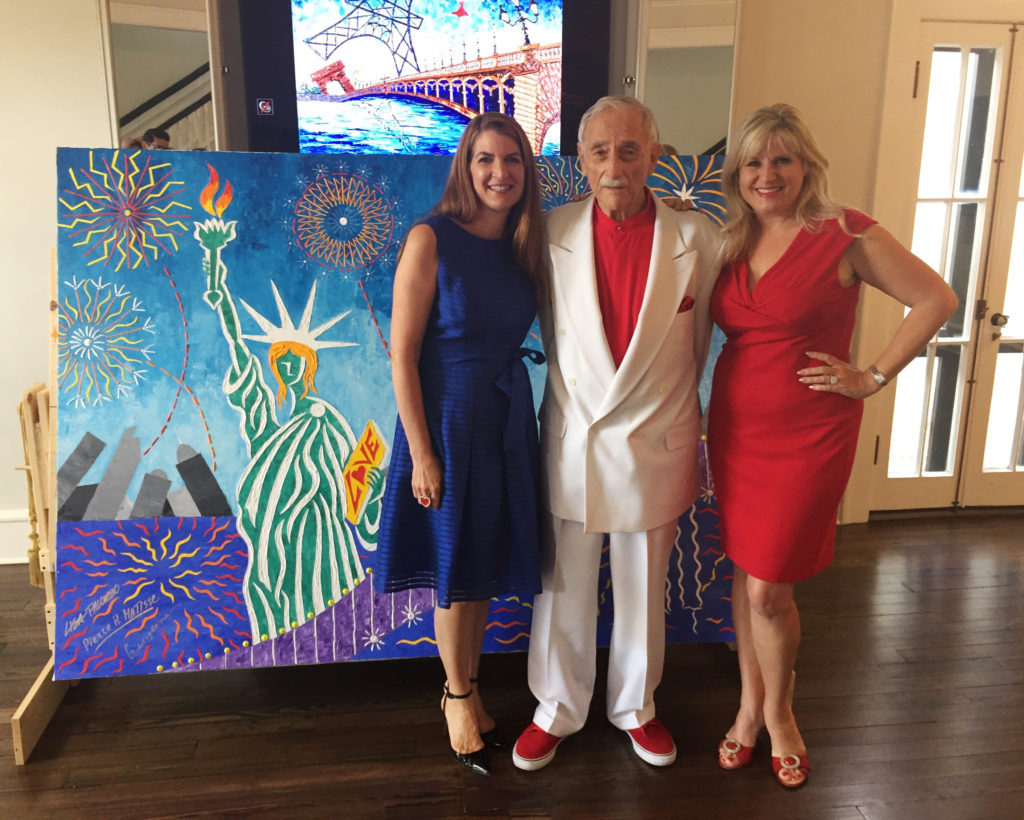 The idea was born on July 4th, 2016 when artists, Lisa Palombo, Pierre H. Matisse (grandson of Henri Matisse) and Georgeana Ireland agreed to create an epic art collaborative painting titled "Liberty & Love."
The "sneak peek" unveiling took place September 24th at the beautiful Albin Polasek Museum & Sculpture Garden in Winter Park, FL. Be sure to follow us on the official Liberty & Love Tour Facebook page to see the behind the scenes making of this painting in Pierre H. Mattise's Florida studio and to keep up with the latest news and events on this painting's journey and its message of Liberty and Love.
---
UnFurling – Our latest short film
Our latest short film! Watch Lisa start a large painting en plein air during the peak season in the renown Presby Memorial Iris Gardens (Upper Montclair, NJ) and then take it to finish in her NJ studio. Thank you Black Board productions (Hoboken, NJ) for being a part of this amazing creative project!
---
The American Iris Society's 2016 Convention hosted by Presby Memorial Iris Gardens, Upper Montclair, NJ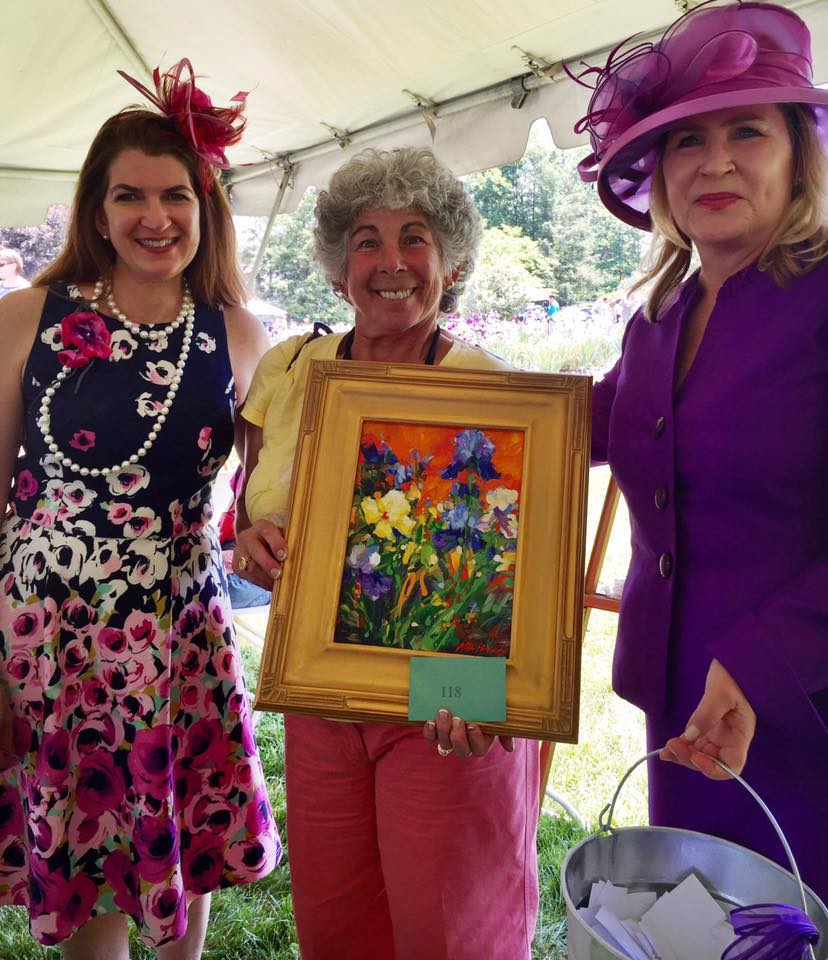 This season, the world-renown Presby Memorial Iris Gardens hosted the American Iris Society's 2016 Convention in which Lisa was a featured participant. Pictured is Lisa Palombo, winner of Lisa's iris painting, and Nancy Skjei-Lawes (president of the Presby Memorial Iris Gardens) at the luncheon in the garden. Soon to be 100 years old the American Iris Society has grown into a large vibrant organization that is dedicated to the iris, the flower of the rainbow and its members who love them.
---
LA Art Show, Los Angeles, CA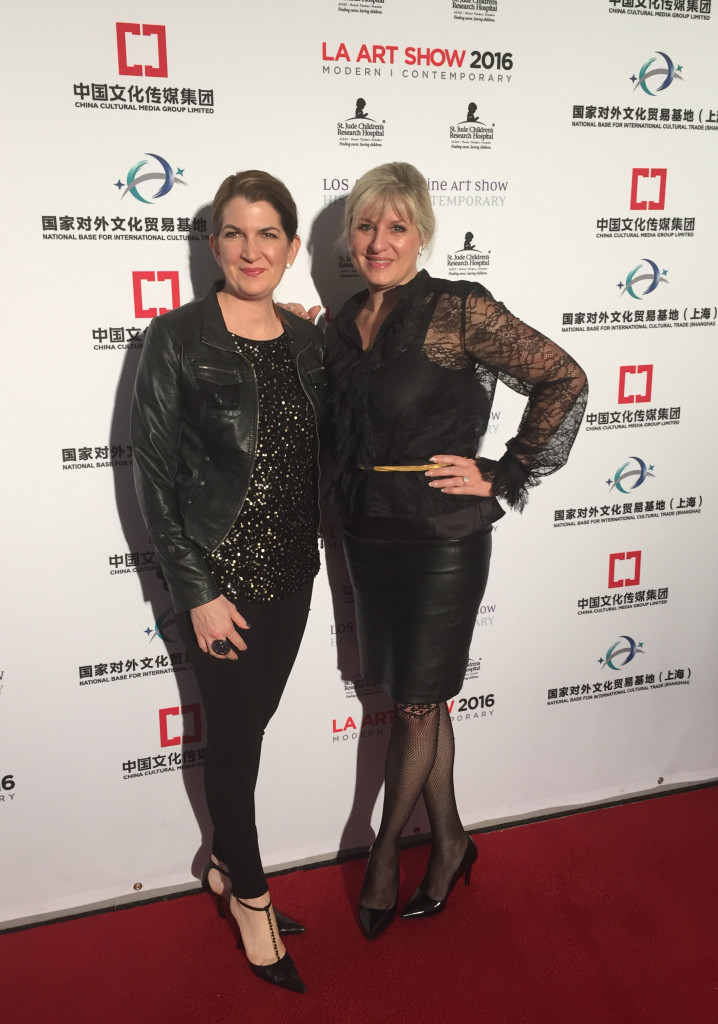 The LA Art Show claims to be the largest, longest-running, most comprehensive art experience on the West Coast and the most diverse Art Fair in the world. Not only that, it's filled with celebrities and actors walking throughout the Opening Night Premiere Party and five–day experience. Ethos Contemporary Art in Newport Beach, CA represented Lisa's art at the show. Pictured here is Lisa and artist, Georgeana Ireland at the opening night premiere party, hosted by Anne Hathaway and Adam Shulman.
---
California Chrome: A Race For the Dream, CA Museum, Sacramento, CA
Nov. 10, 2015 – Sept. 25, 2016
Lisa Palombo's painting, "California Chrome: In the Lead" has been selected as the only original painting to be featured at California Museum's exhibition – California Chrome: A Race For the Dream.
The year-long exhibition features never-before-seen artifacts from the personal collection of California Chrome owners Perry Martin and Steve Coburn. The exhibit also explores the career of California Chrome, the California-bred horse who capped a six-race winning streak in 2014, including two legs of the infamous Triple Crown. He is recognized as the 2014 American Horse of the year and "America's Horse" due to his lowly pedigree and humble beginnings.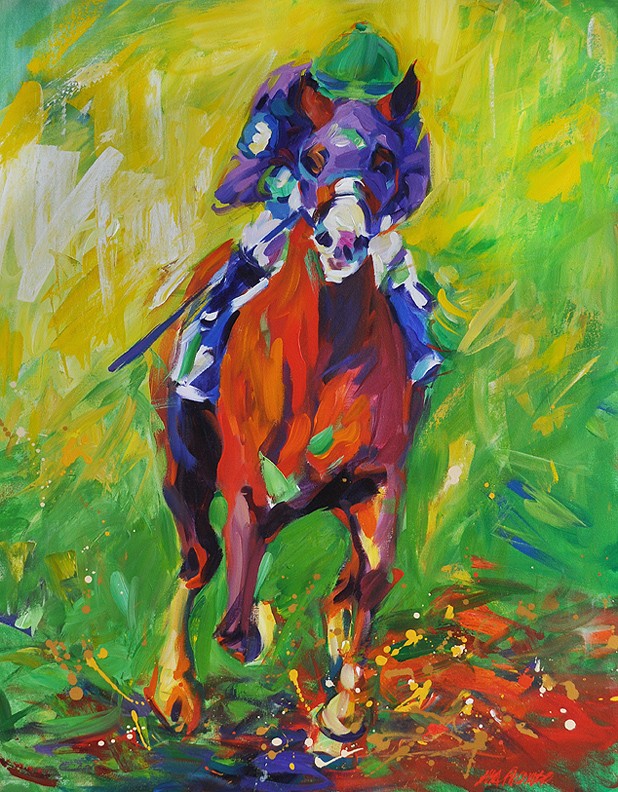 photo credit: CA Museum
---
Deljou Art Group
Deljou in Atlanta, GA Represents Palombo's "Flower Power" series.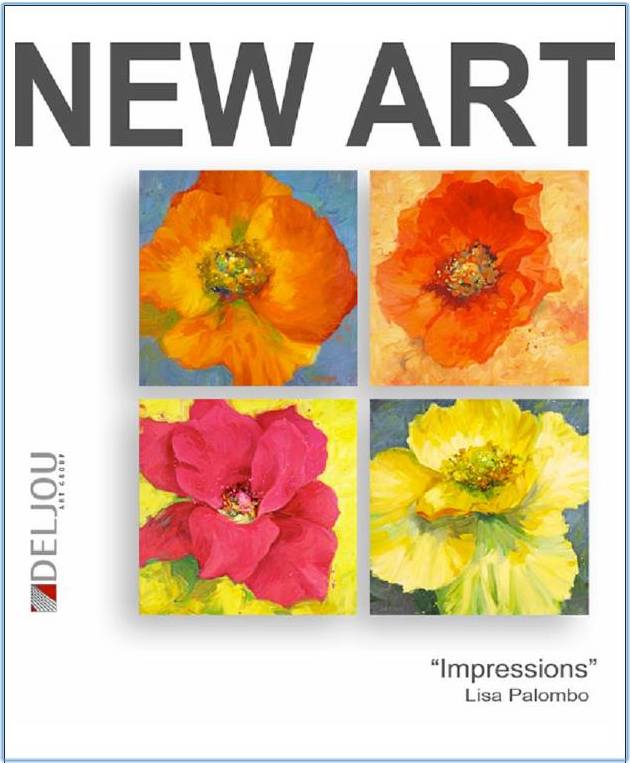 ---
"Exploring Color"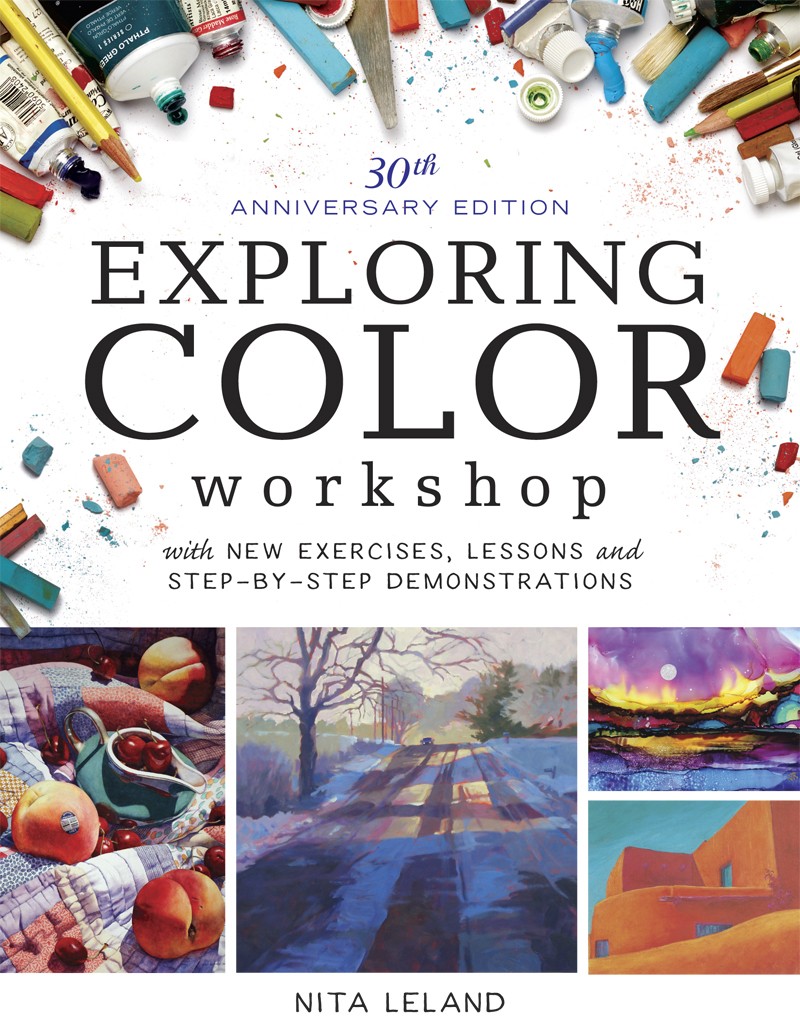 "Sun Kissed" (22″ x 30″, acrylic on paper by Lisa Palombo) is featured as one of the 8 step-by-step demostrations in the latest Best Seller edition of Exploring Color. Click here to purchase on Amazon.com.
This updated 30th Anniversary edition of the North Light classic Exploring Color teaches artists of all mediums and skill levels how to use and control color. With a fresh new design expanded to 176 pages, Best-selling author Nita Leland displays inspiring artworks by 58 artists as examples of what's possible when you understand how color works. Nita shows you the way to more expressive painting through color. In addition to more than one hundred contemporary paintings, Nita's book includes 90 hands-on exercises, 8 step-by-step demonstrations and countless nuggets of color knowledge throughout. Work at your own speed—in your own private workshop!
---
ArtExpo, New York, NY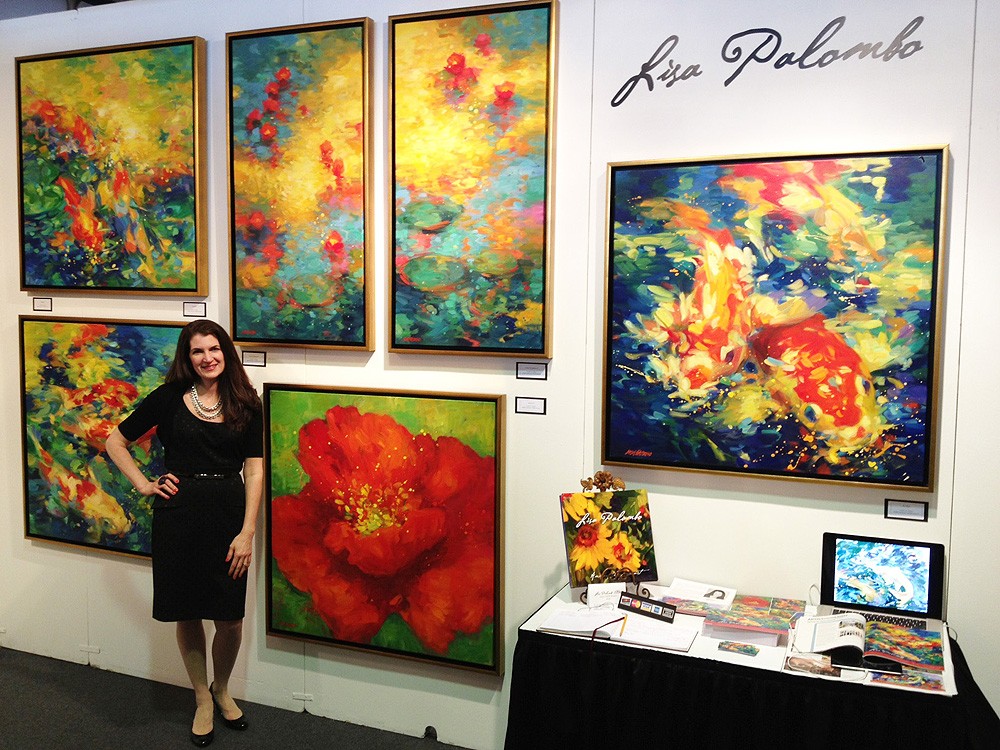 Lisa Palombo debuted her new koi series as well as her popular water lily and floral paintings at ArtExpo, NY.
ArtExpo, NY is the world's largest fine art trade show. Over its 34-year history, ArtExpo NY has hosted many of the world's most renowned artists, including Andy Warhol, Peter Max, Robert Rauschenberg, Robert Indian, Keith Haring, and Leroy Neiman.
---
Art Design Consultation
Palombo appointed as an Advisor to NYC-based Fastlane Communications for experiential marketing, brand color palette development and design consultations for global 2000 brands.
---
Columbia Pictures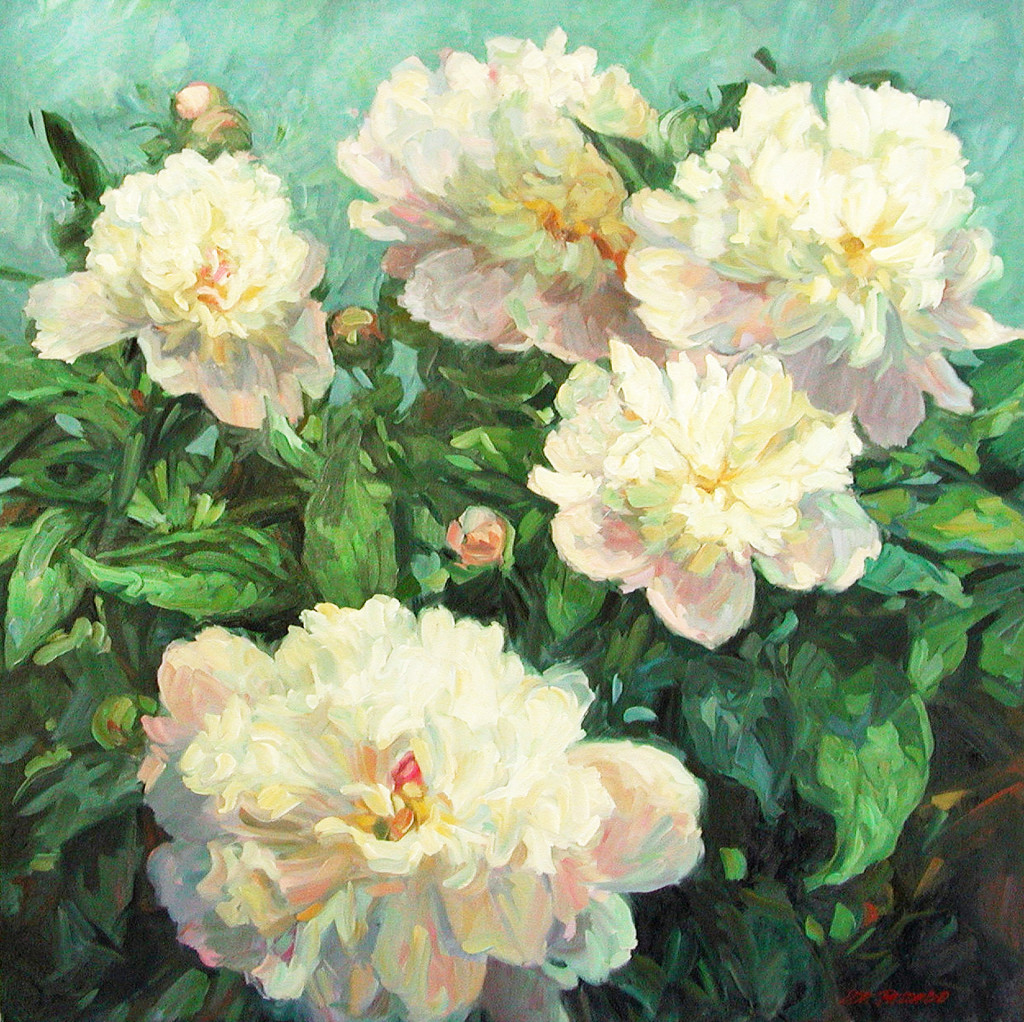 Columbia Pictures selects "White Peonies" painting for the feature film, "The Bounty Hunter" starring Jennifer Aniston and Gerard Butler, directed by Andy Tennant.
---
VIP Night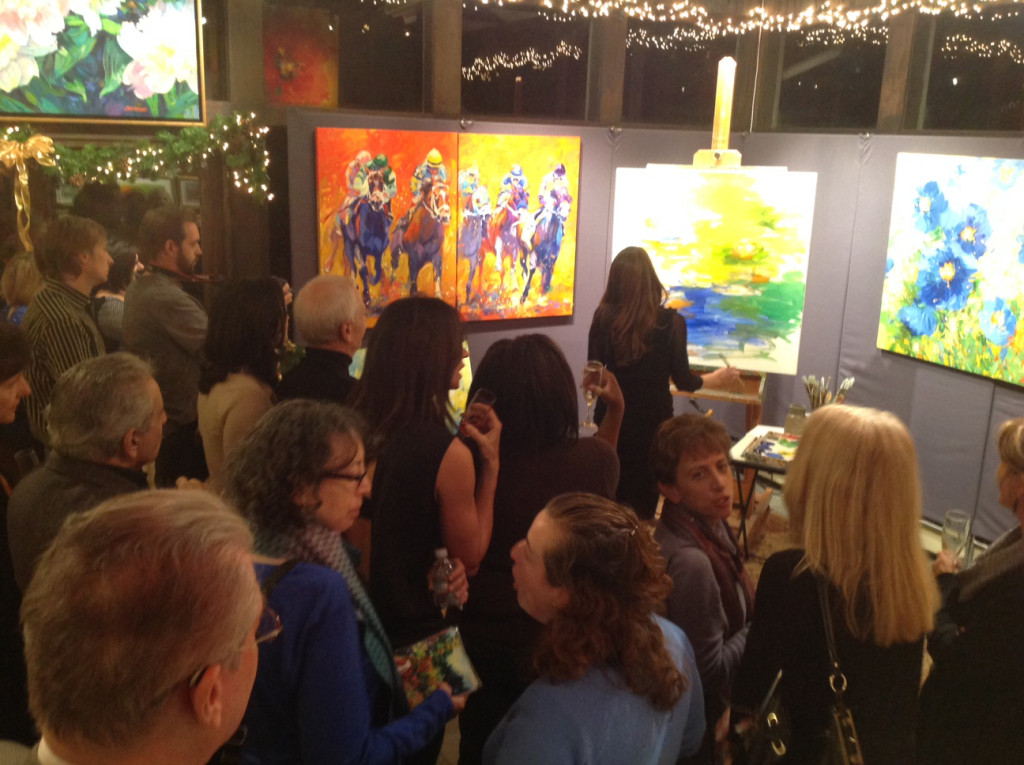 Palombo wows crowd at VIP demo night at her studio gallery. To see the video of the night, click here.